DX300 FOOTBALL HEADSET SYSTEMS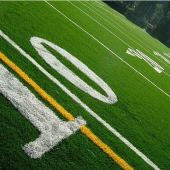 DX300 Football Headset System from HME® stands up to just about anything the game of football can dish out, with its impact and weather resistant case, crystal clear sound, and easy operation–guaranteed to give you the winning edge!
HME's DX300 System links you and your coaches throughout the game in secure, two-way, conversation. The basic "Two-Up/Three-Down" configuration allows up to five coaches to communicate simultaneously in hands-free mode. The system can be easily expanded by connecting additional MB300 or EB300 base stations. HME's DX300 also supports up to 20 coaches in push-to-talk shared mode.
With football coaching headsets from HME®, you can improve sideline communications, press box communication, and ensure that all your hard work preparing for the big game pays off. Join the growing list of football coaches using the HME® DX300 football headset system.
SUPERIOR SOUND QUALITY
DX300's digital technology offers superior sound clarity, so you can be sure your instructions are clearly heard above the crowd noise and general sideline confusion. Rugged ergonomic design means your football coach headsets will stand up to the rigors of even the toughest game day.